Doctors & Staff
Meet the experienced and friendly doctors and staff who make Lifetime Eye Care the leading provider of vision care products and services in Phoenix.
---
Murray S. Pratt, O.D.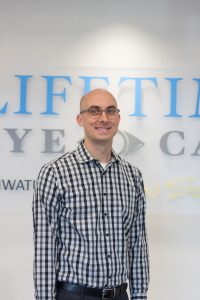 Dr. Pratt has been serving patients at Lifetime Eye Care since 2012. He was trained as an optometrist at Southern College of Optometry in Memphis, TN where he graduated summa cum laude. Prior to starting at Lifetime Eye Care, he was the optometrist at the Nationwide Vision office in Goodyear.
Dr. Pratt has training and experience in all areas of optometry including specialty contact lenses, vision therapy, surgical co-management, and medical eye care. Like many optometrists, he writes medical prescriptions for pink eye, ocular allergies, glaucoma, and other ocular health issues. Even in a field that is changing and growing constantly, he makes a special effort to keep up-to-date with new technologies, research, and treatments. He enjoys working with patients of all ages, from infants to the very mature.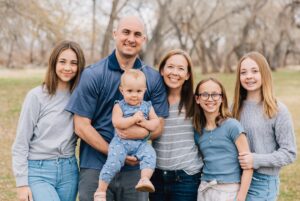 Dr. Pratt was born in California and has six siblings. He is married to his high school sweetheart, Margaret, and has four daughters. He loves spending time with his family no matter what the activity. He played basketball in high school and still enjoys playing a game occasionally. Dr. Pratt is a resident of Ahwatukee and stays involved with local business and community events as much as possible.
Dr. Pratt loves being an optometrist and helping improve people's vision whenever possible. He believes that he has a great job in a wonderful community with the best patients and most amazing staff! You may email him directly at dr.pratt@azlifetime.com with questions, comments, or anything else. He is always happy to interact with patients or community members.
---
A. Kash Sullenger, O.D.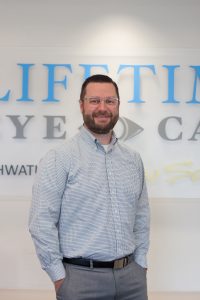 Dr. Sullenger joined Lifetime Eye Care in 2017. He attended Southern College of Optometry in Memphis, TN where he was awarded a Doctor of Optometry degree. Prior to joining Lifetime Eye Care, Dr. Sullenger was an associate at Experts on Sight in Gilbert, AZ, and Nationwide Vision. Dr. Sullenger has also practiced optometry in Spokane, Washington prior to moving to Arizona in 2014.
Dr. Sullenger practices full-scope primary care optometry. He enjoys seeing a wide range of patients ranging from pediatric to the elderly and the treatment and management of ocular diseases. Dr. Sullenger is trained to manage glaucoma, cataracts, macular degeneration, minor eye injuries and infections, dry eye disease, and other eye conditions. He enjoys fitting specialty contact lenses and writing customized glasses prescriptions specific to meet the unique visual demands of each of his patients. Dr. Sullenger can also care for patients needing surgical co-management for cataracts, LASIK, and other eye surgeries.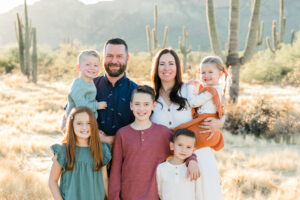 Dr. Sullenger was born and raised in Rexburg, Idaho. He graduated from Utah State University in Logan, Utah with a Bachelor of Science in Biology, Chemistry minor. He and his wife Cara have been blessed with five children. Dr. Sullenger stays busy outside of the office spending time with his family, golfing, mountain biking, and playing pickleball. Dr. Sullenger is able to perform eye exams speaking Spanish.
Dr. Sullenger enjoys improving his patients' lives by helping them see the best they can possibly see. He loves new technology and the ability it has to enhance patient care and treatment. He is happy to discuss any questions or comments through email at: dr.sullenger@azlifetime.com
---